Aluminium Timber Look Cladding
Aluminium battens are ideal for a range of design projects, such as creating modern feature walls, and interior and exterior roofing. Austratus creates aluminium battens in a variety of profiles, including timber-look aluminium and aluminium batten screens. Our expert team can create aluminium battens and ceiling panels to your specification in one of our 30 timber grain finishes. We can even create a custom colour in an anodised or powder-coated finish depending on your wall or ceiling specifications.
Our aluminium batten cladding is available with end-caps in a custom colour of your choice. This ensures that no matter what environment you wish to incorporate the aluminium batten, it will suit the existing décor perfectly. Austratus is able to supply the batten in set lengths of 6.5m. To ensure we can create the perfect custom colour for you, please try to give us as much notice as possible as our injection moulded colours are very in demand due to their excellent quality.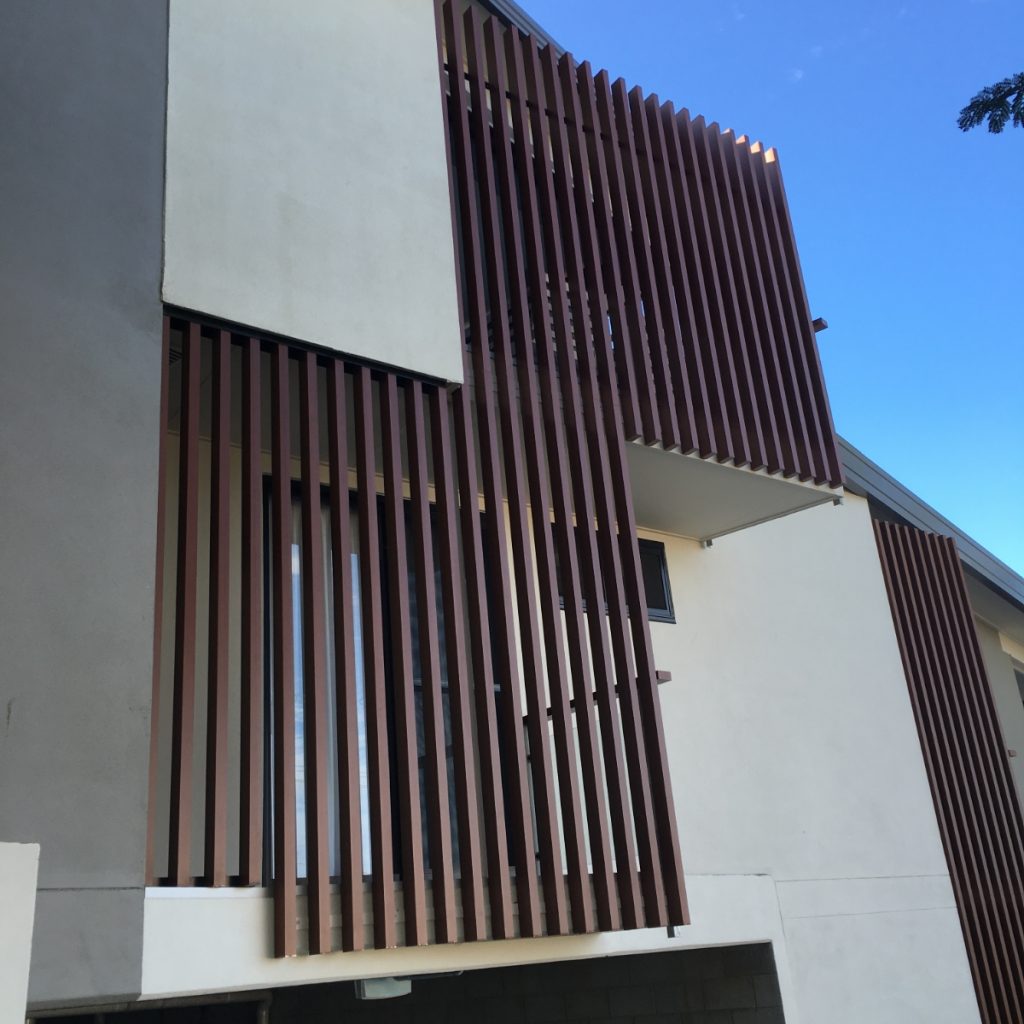 Why Choose Aluminium Battens & Cladding?
Whether you opt for aluminium cladding that looks like timber or aluminium batten screens, there are a number of benefits to choosing aluminium. While aluminium batten is attractive and stylish in appearance, this is just one of the many benefits of this versatile material. The light-weight of our aluminium battens, coupled with incredible durability and easy maintenance makes it possible to enjoy for years to come. These features make aluminium perfect for both commercial and residential buildings.
Group 1 Fire Rating
Not only are aluminium battens incredibly aesthetic, but they also boast excellent fire rating results, ensuring your home or property is as safe as possible. As a non-combustible product, aluminium is your choice for when you need to achieve Group 1 fire ratings on your project. AS1530:1 tested.
Longevity of Aluminium Battens
Aluminium is lightweight, durable, and easy to work with – not to mention virtually maintenance free. Hospitals, halls, conference centres and residential buildings – they'll all stay looking fresh for longer in the finish that you choose.
Choose Your Aluminium Finish
All the freedom and flexibility of choice is yours. Select from a large range of powdercoated or anodised finishes, or opt for a natural looking timber grain finish – all the style of timber, all the benefits of aluminium.
Aluminium Cladding Maintenance
Aluminium cladding's lightweight structure makes it incredibly easy to install and maintain, with the only cleaning necessary being a light clean with mild detergent and water a couple of times a year. It is resistant to both moisture and saltwater, so is a plausible option for coastal areas as well as being impervious to termites and other insects.
We offer freedom of choice when it comes to aluminium cladding. That means a great range of colours and styles that suit heritage through to contemporary designs. Whether you're looking to add a stand out feature wall or coat your entire exterior, you'll find the perfect solution from our range of aluminium solid extruded cladding.