What is Biophilic Design?
Biophilic design is an architectural movement that aims to incorporate elements of nature into the built environment. This creates spaces that connect humans with the natural world.
"Biophilia" is a term coined by psychoanalyst Erich Fromm. In his work, Fromm described biophilia as a passionate love of all natural things, and he proposed that it's something humans desire at a base level.
In modern times, biophilia has been incorporated into architecture and design as a way to improve urban experiences. As our cities grow upwards, biophilic design is helping us stay connected with the natural world, and it has spawned an entire genre of architecture focused on blending nature into urban design.
How Biophilic Architecture Can Improve Your Spaces
Biophilic architecture is a stunning movement. The use of natural materials, light, air and plants can bring any space to life. Beyond the aesthetics, biophilic design offers four key benefits:
Health benefits. Research suggests that biophilic elements – such as natural sounds and materials – have a significant impact on mental health. Incorporating these design elements not only makes designs stand out, it allows us to create spaces that improve the physical health of occupants.
Environmental benefits. Natural elements such as trees, gardens and green roofs have long been used to manage, filter and dispose of stormwater. Incorporating these features across a single building or an entire city can have a major impact on water management and temperature fluctuations.
Economic benefits. Biophilic architecture has been found to increase productivity, especially in commercial settings. One study found that vegetation and skylights increased in-store sales by 40%, and it suggested that major cities could see significant savings due to increased productivity.
Sustainability benefits. The major benefit of biophilic design is that it prioritises natural, renewable resources. This can have a major impact on sustainability measures. At an urban-scale, biophilic design helps to control temperature fluctuations in cities, manages stormwater, prevents flooding and creates stronger bonds between people and their surroundings.
Tips for Creating Biophilic Architecture
Incorporate outdoor spaces
Biophilic architecture is all about connecting humans with nature. There's no better way to achieve that than through the use of outdoor spaces. Blending outdoor spaces into architecture not only expands useful living areas, it helps to introduce light, air and greenery into your design.
For an even bigger impact, you can create transitional spaces that sit between the indoors and the outdoors. Transitional spaces tie major design elements together and provide a greater sense of connectivity.
Bring the outdoors in
The blending of indoor and outdoor spaces is a core principle in biophilic design. One of the simplest ways to achieve this connectivity is to use outdoor elements for indoor design. Incorporating light, air flow, plants, green walls and water features creates a sense of nature that can't be achieved any other way.
Design using natural patterns
Straight lines are some of the most striking design features of manmade structures. While straight lines have their place, they are rarely found in nature.
Swapping straight lines for natural patterns, shapes and curves is a great way to mimic nature. While design elements such as curves, waves and shells are still manmade, they soften the appearance of a building and support other elements in creating a more natural feel.
Create variation between spaces
Just the same as straight lines run counter to natural design, so does the uniform nature of most buildings.
Rather than using a single design aesthetic throughout your building, biophilic architecture encourages variability. Introducing multiple aesthetics, materials themes and unique spaces mimics the variability of nature and supports biophilic design principles.
Use natural materials
The biggest thing you can do to incorporate biophilic design is to use natural materials in your project. This includes things such as stone, timber, leather and cork, but it extends to other design considerations, such as natural light, air flow and negative space.
Using natural materials that are sourced locally can also help with designing a building that fits seamlessly into its surroundings.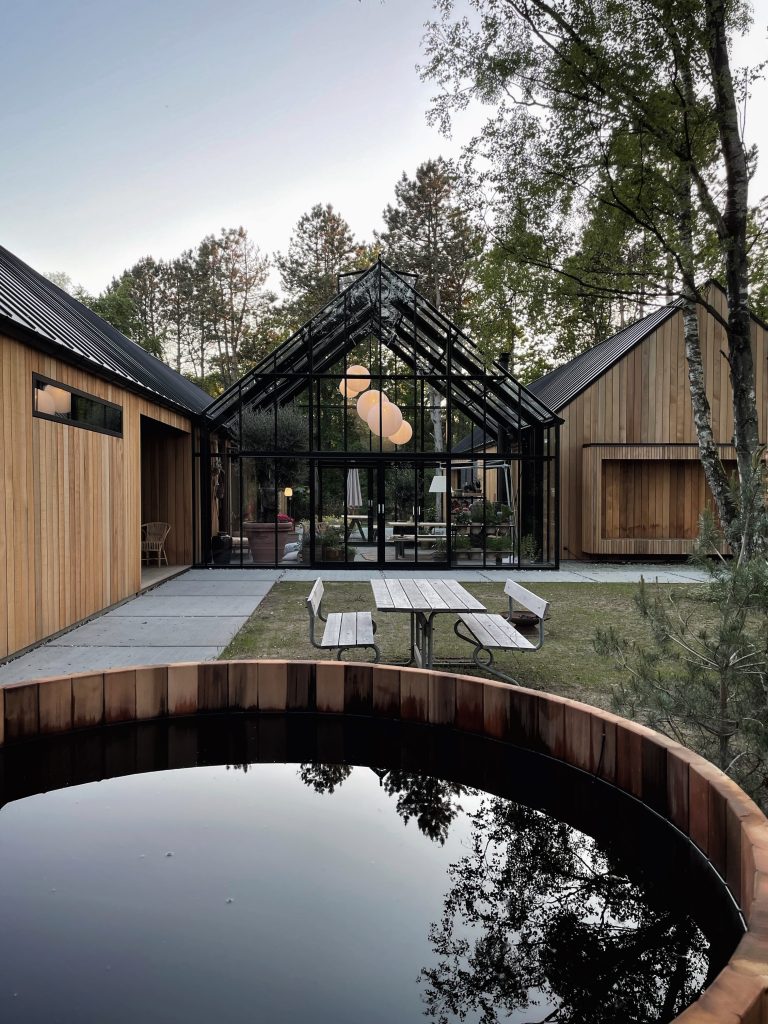 Incorporating Timber Into Your Biophilic Design
The use of natural materials is key in biophilic architecture. Incorporating timber, stone, light, water and plants into your spaces can make all the difference to the experience.
Of those materials, timber is among the most accessible and impactful, allowing designers to create architecture that stands out.
There are dozens of opportunities to use timber, both indoors and outdoors. Some of the most common timber applications in biophilic design include:
Timber ceilings
Timber ceilings are a simple and elegant way to add depth, colour, interest and a touch of nature to your indoor spaces.
Timber provides an excellent alternative to plasterboard ceilings. Modern products utilise cladding systems that are simple to install, making timber a time and cost-effective solution that bolsters your biophilic design.
Timber cladding
Exterior timber cladding is one of the world's oldest construction materials. Timber cladding not only looks fantastic, it's simple to install and incredibly hardy.
Even better, timber cladding is designed to fade over time, helping buildings to blend into the surrounding landscape.
Internal wall cladding
Timber cladding is perfect for indoor and outdoor spaces alike. Internal wall cladding can be used for everything from minor accent pieces to major design features. Timber cladding for internal walls is a great way to blend interior and exterior design elements, creating a seamless flow throughout the project.
Timber decks
As a nation that lives and breathes the great outdoors, Australian designers have long turned exterior spaces into primary living areas. Outdoors, there is no material that looks more at home than timber decking.
Timber decks are not only functional, they're a fantastic way to tie the design of a building into its surroundings.
Mouldings and detail
Not all timber installations need to be as bold as a full wall of cladding.
In some designs, smaller touches and the use of timber mouldings (such as cornices, door jambs and window trims) provide moments of natural beauty without overwhelming other design elements.
Explore the Possibilities of Biophilic Architecture with Modinex Timber Products
Biophilic design is a young concept, but it is taking root across the world. With cities becoming denser, designers are searching for ways to incorporate the natural elements we crave, and biophilic architecture is the answer.
Smart biophilic architecture incorporates dozens of small moments that add up to make a big impression. Some of the most important moments in your design come from the materials. At Modinex, we supply sustainable, considered architectural timber products that are the perfect accompaniment to your next project.
Our range includes timber cladding, decking, mouldings and ceiling systems that can add a touch of nature to any space. You can explore our range online, or contact us to discuss using Modinex products to deliver your next construction project.